by Jim Macnie on March 17th, 2013, 12:19:00 pm
We usually have lots of fun in Texas during SXSW, and this year was no exception. The VEVO TV Control Room was decked out to be a place where you catch a breather and have a beverage at the traditionally hectic festival (while charging your toys), and quite a few guests took advantage of the ping-pong tables we provided (yes, we've got slam fever). Of course at night it was a different story. That's when VTVCR turned into party central and the DJs and bands got busy with that next level stuff, driving the crowds nuts. Krewella, HAIM, and Nervo were on the case. Kid Cudi rocked the house, and Diplo came by. Even Usher showed up. All in all, a blast.

Our Austin action began on Tuesday with the announcement of VEVO TV, our new 24/7 entertainment channel, and all the press and participants were knocked out by the new offering. We have more than 50,000 videos to show people, and VEVO TV is all about us guiding you to the best artists out there, through music videos and original shows.

On Tuesday night the sisters of HAIM were our special guests, performing to a packed room (hundreds had to be turned away) and yes, they nailed it, rolling through tracks like "Falling" and "Don't Save Me." The L.A. group is moving fast these days. The fans who overran the space were HAIM zealots, pure and simple. After their set we'll forever appreciate Danielle's guitar shredding skills.

On Wednesday night Krewella, our latest LIFT artist, took the stage to slay everyone. The Chicago EDM trio is comprised of sisters Jahan and Yasmine Yousaf and their partner in beats, Rain Man. This is a band that's going places fast; the frenzy of their performances ("beers were thrown, sweat was drenched, and the floor shook," reported one VEVOite) is becoming legendary. They're at Ultra Fest in Miami this week (here's our playlist of Ultra artists, btw). We're rolling out exclusive LIFT profiles and interviews with the trio this month.

Speaking of EDM siblings, Miriam and Olivia Nervo swooped in to spin up some fun on Friday night as well. They're two of our faves. Late on Friday night we were also treated to a set by Kid Cudi.

The famed Shepard Fairey had his team at work on a mural he premiered at the Control Room, and an exhibit curated by NYC's Indiewalls was also in place. Big thanks to both teams for their creativity. Shout out to super chef Paul Qui, whose addictive BBQ kept everyone nourished on Wednesday (he was also venue's food curator). Throughout our run, MSSL CMMND (Chad Hugo & Daniel Biltmore) Mel DeBarge, Bavarian Romance, Mia Moretti, Steve1nder, and DJ Earworm kept the dance floor packed at various points. Big thanks to them as well!

Our sponsors are the best. Dream Hotel, Miller Lite, Tito's, Guess, indieWalls, 4 a.m., and Gracenote were superb to partner with.

Here are a few pics of the action. Check out lots more on our Pinterest page.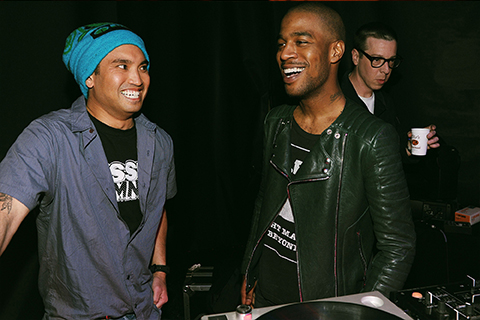 Photo Credit: Kirill Was Here